News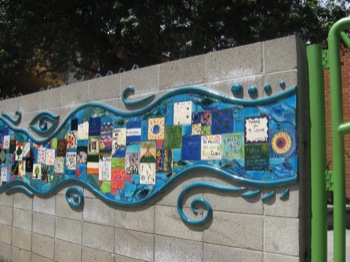 One of the latest projects Topanga Art Tile is working on is a "Living Mural" at the Volunteers of America, Los Angeles Rotary House in downtown Los Angeles on Skid Row. Although we do many fancy and elaborate projects for high-end residence, hotels, restaurants etc as well as many public spaces we are also involved with our community in other ways that enhance the spaces people use on an everyday basis such as schools, libraries and other public spaces. The Rotary House is a place where people in need live in a transitional stage in their lives while they get back on their feet and out on their own. Many veterans are here trying to get back into the larger society and these are the people that really need to be involved with working on things for themselves to create a sense purpose, ownership and pride.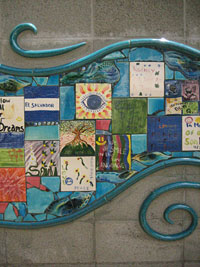 The concept for this project is for the residence to paint and design their own personal tiles with images and messages of hope and dreams for themselves and the world. These positive declarations and designs are painted on tiles and then Topanga Art Tile with the help of Residence and Volunteers is incorporating them into the mural. The mural flows along the outside wall of the Rotary House Courtyard where the residence spend their time while living there. It's a long wall and the process is on going maybe taking many years to complete but it is growing. Residence are encouraged to get involved and help paint tiles and install the mural towards its completion.
Meanwhile the mural, in its starting phase, is looking beautiful and generating a lot positive response from all involved. This project involves a lot of people and is a mixture of many personalities and is evolving as it goes. As more people get involved and as the mural progresses and grows it will take on a life of its own hence the name of a "Living Mural". We are proud to be a part of this project and to be involved with all the people in it. This is a project that could only happen with so many people helping and is a testament to the healing power of the arts.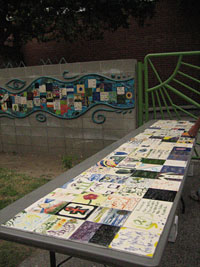 The Los Angeles Rotary Club is the project sponsor and partner and the volunteers in addition to the residents are all Rotarians. Thank you for your help and generous support.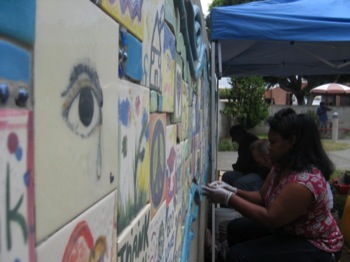 The Living Mural Project is at the VOALA Rotary House in downtown Los Angeles. Thank you Volunteers of America, Los Angeles for your help and generous support.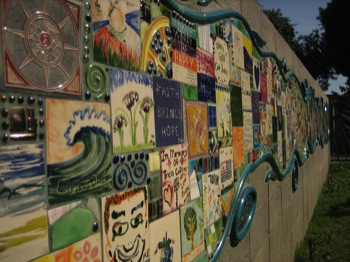 Laguna Clay Co. who is a supplier of clay and glazes for Topanga Art Tile made a large donation of glazed tiles which was helpful in filling in some of the mosaic field in the mural. Topanga Art Tile also donated pieces and shards from its collection of leftover tile for the mosaic field as well. Another supplier, Ceramic Tile Warehouse, was responsible for donating the under-glazes we used to paint the tiles. Thank you all for your generous support. M.D. - June 2009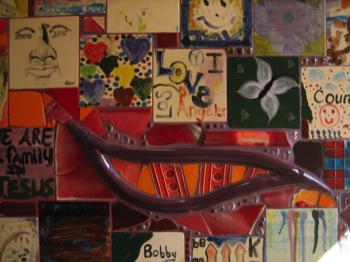 The latest update on the Living Mural Project as it unfolds at the Rotary House in Los Angeles is that it is continuing to expand and inspire. Both the space and the spirits of those in and around the Rotary House have been lifted by the mural and it has created a sense of worth that is affecting everyone.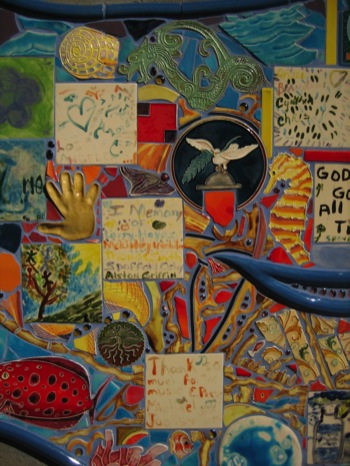 Throughout 2009 we had approximately 6 days of tile painting where we generated approximately 400 hand-painted tiles by hundreds of people. We also spent 10-12 days installing the tiles into a fantastic mosaic mural that flows freely along the wall. It's like a mosaic quilt that evolves as we go. Some days we had a lot of help and some days we just had a few helping hands but it always grew to the next level. The mural also has a custom made freeform trim that I made specifically for this project which gives the original concept a fine art finish and enhances the overall appearance.
To date we have completed the first main section of the courtyard wall which is all of the sixty feet leading from the buildings courtyard entrance to the courtyard gate. It is looking great and fully complete with bright colored grouts bringing all the amazing mosaic pieces together into a work of art which includes the hand-painted tiles of hundreds of people so far. We even had the President of the International Rotary Club visit with other dignitaries over the summer and he was also able to install a tile with the Rotary Logo on it which was great. As the mural grows it continues on a life of its own and it has definitely enhanced the overall feel of the space and generated a lot of thought and contemplation as well as pride and joy. This is definitely a living work of art! M.D. - January, 2010.
Thank you to all the organizations and people who were involved with this project and made it possible.